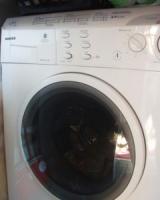 It washes your cloths sure, but check out what else it does. The AQUA Washing Machine, has been launched in Japan and uses a device called Aqualoop which recycles water for use in further washes, aiming to conserve around 50 litres of water.
It also has a facility called Air Wash, which enables owners to clean items of clothing that would usually require dry cleaning or those that cannot be conventionally washed in water. Air Wash infuses the clothes with odor and bacteria-killing chemicals, which could be of use if items smell of pets or smoke. The machine has been designed with the consumer in mind, as it has a higher-placed drum allowing it to be filled while the owner is standing up.
More pics after the fold.