So a year and a half ago Bush went on the record saying that he would fire anyone who was involved in the leak of the undercover CIA operative.
Then he changed his mind and said that he would let the courts decide (this after scooter Libbey got nabbed for lieing), and now it seems that perhaps Bush himself was the cause of all the leaks.
Scooter says that he was authorized to leak by none other than Bush and Dick themselves.
more here.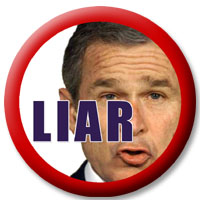 Detailed evidence has emerged for the first time suggesting that President Bush played a direct role in authorizing a selective, surreptitious leak of information from a highly classified national security document to rebut critics of the war in Iraq.

Bush has long complained about inappropriate disclosures of sensitive intelligence information, and there is no suggestion that he broke the law, because experts say the president has the legal authority to declassify information.

But critics said the disclosures, made public in a court filing in Washington related to the CIA leak case, appear to show Bush doing something he has repeatedly decried: trying to manipulate public opinion by quietly leaking information to the press behind a veil of anonymity.

According to the filing, Vice President Dick Cheney told a top aide that Bush had authorized the release of information supporting the administration's claim that Saddam Hussein had sought nuclear weapons materials in the African nation of Niger.

"I served for 13 years on the House Intelligence Committee, and I know intelligence must never be classified or declassified for political purposes," said House Minority Leader Nancy Pelosi, D-San Francisco. "One of the constants in the Bush administration's miserable record on Iraq has been the manipulation of intelligence precisely for political purposes. That has caused our intelligence — which used to be accepted without question around the world — to be viewed with skepticism by the international community."
So the main question is, does this mean we can impeach Bush now? How many people does he have to get needlessly killed in an illegal war, or ruin anymore ecological law, or pass laws that make the rich richer, and the poor poorer. I mean is the only thing that gets you impeached in this country blow jobs? If thats what it takes sign me up for the first free blow job for the president. I know it will be unpleasant but if thats what it takes to make people impeach him then I am willing to do my patriotic duty.