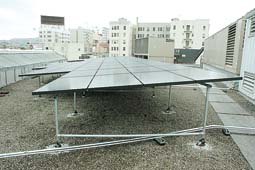 Pacific Gas and Electric Company and the San Francisco LGBT Community Center yesterday celebrated the unveiling of The Center's new state of the art solar energy system. Senator Carole Migden, Assemblymember Mark Leno, San Francisco Treasurer Jose Cisneros and San Francisco Assessor-Recorder Phil Ting joined the celebration along with several hundred community members who could see live readings of the new system's power generation and the amount of greenhouse gas emissions the system has avoided.
"The San Francisco Lesbian Gay Bisexual Transgender Community Center is truly a San Francisco icon, and today the Center is demonstrating yet again its leadership on an issue that is dear to all of us — the environment," said Tom King, CEO, PG&E. "This is the first of many more solar projects that PG&E will be donating to San Francisco as part of our $7.5 million city-wide solar investment."
The system, manufactured by SunPower and installed by Sun Light and Power, composed of 96 panels rated at 215 watts each is expected to produce over 27,000 kW hours of renewable, green power that will have zero greenhouse gas emissions and will save the Center nearly $5,000 annually in energy costs. The installation of the rooftop solar system, a project managed by The Foundation for Environmental Education, cost $170,000.
Continue reading San Francisco LGBT Center 'Rays The Roof' With A New Solar Installation →