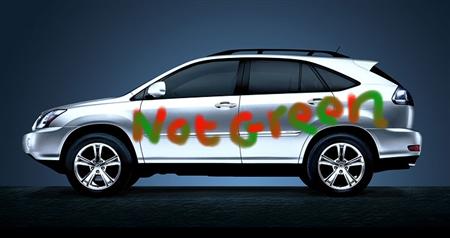 One advertisement that infuriated me more than almost any other in the last year (and there are SO many to choose from), was that for the Lexus RX Hybrid. At the time I first saw it, green was not the colour in my mind — more a sort of splashy, angry red — and I decided to write about it.
Now, with the advert having been unceremoniously banned for – quite frankly — lying, Lexus have turned to Saatchi & Saatchi, the ailing but global ad agency, who have decided that a world without "h" is a terrible world. Obviously this needs explaining, so here's the official guff:
"The TV commercial presents a glimpse into a world without h. The h is missing from key landmarks, computer keyboards and the alphabet in schools. The viewer begins to wonder where the h has gone. Then they see, it has moved to a better place, a world with the Lexus hybrid—a place that looks forward and believes in change. There is no better place for an h to be than on the rear badging of a Lexus hybrid vehicle."
Run that past me again. Lexus have stolen all the "h"s, screwing the world's keyboards and schools because they want to look good. Talk about honesty in advertising!
[read more at The Unsuitablog]