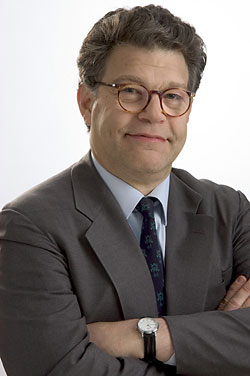 Maria Energia has contributed this great interview with Al Franken, Read more from at her very good blog here.
Comedian, satirist, and talk show host Al Franken is running for U.S. Senate in Minnesota on the DFL ticket (in MN, DFL = Democrat).
Last month, Franken made an appearance at the Crow Wing County/Morrison County DFL summer picnic. I grew up in Morrison County, so I attended and was impressed with the (relatively) huge turnout. I met Al, but more importantly he took the time to answer some questions I sent him via email about renewable energy and Minnesota's place in the clean tech revolution.
*Maria Energia:* What specific renewable energy legislation do you want to see implemented at the federal level?

*Al Franken:* On a macro level, I'd like to implement a national cap and trade for carbon dioxide. This would make the cleanest renewables cheaper than fossil fuels and reward sequestration of CO2 in the form of planting acreage. I'd like to see more federal investment in pilot projects for renewables. Representative Collin Peterson has put in several pilot projects for cellulosic ethanol that would be conducted here in Minnesota.
When I have said I want an Apollo Program for renewable energy, I'm talking about making these kinds of investments in renewables, including things like tidal and wave power. The United States has to go back to investing in research and development. This means identifying promising technologies and investing in them.