Trump Watch:
So trump has signed the roll back to internet privacy bill, meaning that you should all go out and google "what is a VPN" right now.  We live in an era of double speak, and purchased politicians.  The republicans (and it was all republicans for once) that voted for this bill, and the republican president that signed it don't give a fuck about you, your interests, or what you actually want.  They care only about big money, and what it tells them to do.
The solution to this is obvious, kick the bums out, kick the money out, and pass laws that make sure it can't come back.  We did this in the 1890s in America, we can do it again.
—————
Want to make the Russia story more fun, add Blackwater!   (for those who have forgotten Blackwater is Cheney's old personal military contractor.
———————-
The Resistance!:
Upcoming Action Against Trump:
 April 29th – Peoples Climate March
May 1st, Massive May Day Strike!
June 9 – 11, Peoples Summit 2.0
————————
Lets get these people elected!
Seattle has a public election financing system, and some really good candidates are running!
Jon Ossof in Georgia, help out here.
Kathryn Allen is running to kick out Jason Chaffetz. help out here.
Arturo in California district 34, help here. (see below, there seems to now be good reason NOT to support this person)
Mejia for congress in California district 34, help here.
Cheri Honkala in Philadelphia 197th district help here.
Lets replace a republican with a scientist! 
——————-
CA-34! YOUR ELECTION IS TODAY, GO VOTE!
——————–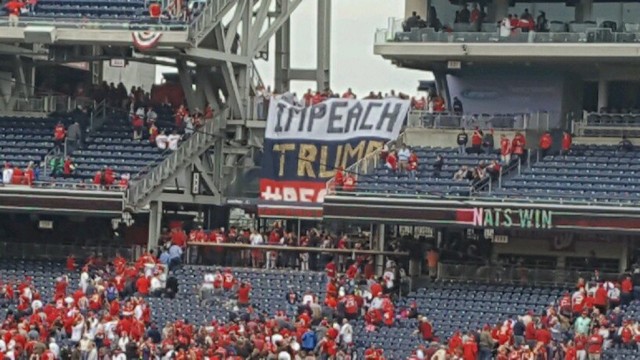 Old fatty Trump was too scared he would wiff so he didn't throw out the first pitch, a tradition that goes back to Taft.  Ha ha ha ha.  Is this the president you Trump supporters voted for?  A coward and a weakling?
——————
Mercedes-Benz pulling ads from 'The O'Reilly Factor'  Don't get confused for a second, big companies have no morality, they only care about their image in how it affects sales, but at least an angry old man who likes to abuse women is finally starting to be something that isn't profitable anymore.
——————
Over 500K people demand Melania Trump pay for her own NYC security costs.  They only get afraid of us when we are in large groups, keep up the pressure!
——————
Join me, @RepJayapal, @SenWarren, @keithellison and @USRepRickNolan for the introduction of the College for All Act: https://t.co/d4DuaMZkrC

— Bernie Sanders (@SenSanders) April 3, 2017
Bernie Sanders Just Introduced His Free College Tuition Plan!  Now is the time to counter punch, even if these bills don't pass they put republicans on the record as fighting against the american people, making it easier to defeat them in the next election.
Proposed #CollegeForALL Plan Would Tax Wall Street to Destroy Student Debt Crisis
———————
You can watch it here on facebook.  Or read more here.
—————–
Just added our 2nd #MedicareForAll cosponsor today. Thanks@RepAndreCarson! That's 84. 97 would be majority of Dems. We can do
this!

— John Conyers, Jr. (@RepJohnConyers) April 3, 2017
Support for the universal heath care plan in the house continues to grow!  Even Trump Supporters are behind this!
'Keep What We Have' Isn't Good Enough. Medicare For All Is the Path Forward.
How Trumpcare's Spectacular Defeat Could Open the Way for Single-Payer Healthcare
No to Trumpcare, No to Obamacare: Universal Healthcare or Bust
Democrats' Medicare-for-all litmus test: "If every major country on earth guarantees health care to all people and costs a fraction per capita of what we spend," Sanders said, "don't tell me that in the United States of America, we cannot do that."
———————-
——————————————————————————————————-
Tools of change:
Feel like this is all a bunch of bullshit?  Want to do something about it?
Calling your government representative:
Call your Senator
Call your House Rep (Or use this spreadsheet)
Call your Governor
Call your Attorney General
Or try this website
Fax Congress here (free!)
You can also use 5Calls.org if you are having a hard time figuring out what to say.
Tell them in no uncertain terms that you want them to fight to stop Trump from doing these things. Tell them you will be watching them closely on how they vote, and will hold them accountable during the next election if they cave to Trump.  You can also call other states congress people and threaten to donate to their opponent if they don't do what you want.
Phone Bank for Progressive Candidates:
Call the White House:
202-456-1111
Call the "White House":
Use this  website to call one of Trump's many properties he has not put into a blind trust yet, and let them know how you feel (be polite, they are workers just like us, but be firm).
Do a little Slacktivism:
Send Some Text Messages for progressive causes (I know it says textforbernie, but its for a range of progressive candidates)  Or you can have your texts turned into faxes by the ResistBot
Go to a town hall and talk to your congress person in person:
Check when the next town hall is here
Monitor your congressperson:
Keep track of how your senator is voting on cabinet picks here, so you can call them up and give them hell if they vote for any of these worthless fuckers.
See how your elected representatives are voting for or against Trump.
Also be sure to keep track if you live in a district with an upcoming flip-able seat (flip to the left that is)
Upcoming house votes:
https://www.govtrack.us/congress/bills/
Upcoming senate bills:
http://www.senateseeker.com/vote.php?upcoming=true
Monitor Trumps Conflict of Interests:
General Guides:
Guidelines by former Congress staffers on how to get Congress to listen. https://www.indivisibleguide.com/
Run For Office!:
Want to run for office in your area to fight back, check this out for positions that are open in your area, how to register, and what you need to do to win office!
Remove the Corporate Democrats!:
Join the fight to clean out the democratic party:  Justice Democrats!
Do you want to help me continue to bring you these daily roundups of the Trump news, while also getting great rewards?  Consider supporting me on Patreon!
Thank you!