President Obama has just delivered a state of the union address speech, in which he stressed the importance of good education and research with focus on renewable energy and sustainability. The President has also stressed the importance of creating new sustainable jobs in the construction industry. Without a doubt, renewable energy systems, and sustainable building practices can offer a great promise to help rebuild America.
Commercial modular construction offers a speedy and cost effective way to build single story and multistory buildings for educational, commercial, industrial and institutional construction projects with focus on sustainability, which can be measured by the US Green Building Council LEED accreditation points system.

Think Globally, Act Locally

The President has raised some very important points concerning good education and rebuilding of America. Modular building technology offers a cost effective and time-saving way to build permanent modular classrooms, and portable school buildings for organizations that require new classroom space to meet the growing demands for increased school enrollments.
Modular Classroom Advantages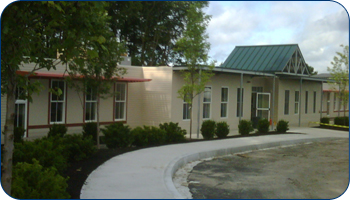 Modular school buildings are indistinguishable from other school buildings, and can have any architectural design along with client's specifications.
Portable classrooms provide an economical and sustainable way for public, private and charter schools to add new classroom space. Modular classrooms are custom-designed to meet the specific needs of the school and its students. The classrooms are fabricated at a manufacturer's facility using strict quality control measures, and lean manufacturing methods. The manufacturing process is completed in just 6 to 8 weeks, which is just a fraction of the time it would take to build comparable school buildings using conventional construction methods. The construction site prep work takes place concurrent to modular building being constructed. The whole building can be delivered in as early as 90 days.

Portable Classroom Solutions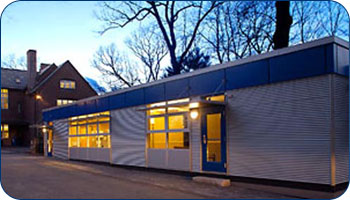 For schools that require an immediate classroom space increase, temporary classroom buildings can be delivered and deployed in just 24 hours.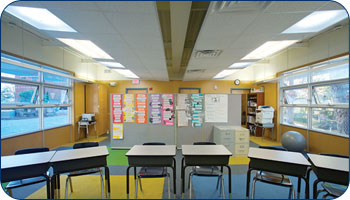 The modular school buildings above are courtesy Triumph Modular Inc. providing custom green modular building services, and portable and temporary classroom solutions in Massachusetts, New Hampshire, Rhode Island, Connecticut, New York, Maine and Vermont. The Sprout Space sustainable high-performance custom modular classroom systems designed by architects who focus on school design can be installed by Triumph Modular anywhere in the US.

References:

http://www.triumphmodular.com/green-building.php
About the Author:
Aleksandr Biyevetskiy is an avid proponent of green building technology for residential and commercial construction, and sensible sustainability for business, government, and society. Some of the topics that he passionately writes about include (among other things) green modular classrooms for schools with rising enrollment needs, and environmentally-friendly PVC roofing systems for residential and commercial flat and lower slope roofs. Alex also maintains a personal blog in which he covers a variety of concurrent/relevant topics at www.tampile.com/blog/.
Connect with Alex on Google Plus: Join and Follow my latest posts on Google+!