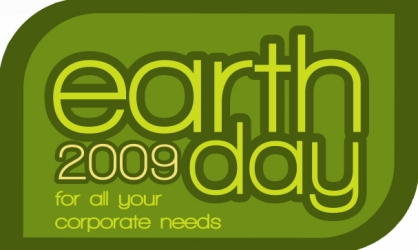 In case anyone wants to accuse me of laziness, for using the text from other peoples' emails and for banging on about Earth Day again (not for no good reason, I hasten to add), I would like to say in my defence that I have to trawl through, read and delete all this damn stuff which comes squeezing its way through my internet pipe every day like lots of little green goo-soaked monsters.
So, given this effort, and how I still don't seem to have got through to the inane fools sending me so much pseudo-green trivia and corporate PR-puff, here's my Top 3 Crap Earth Day Emails, in approximate order of hypocrisy:
3. Coupon Sherpa : for uber-trivia – as though coupons are actually a major issue, the promotion of coupons that encourage people to buy more stuff, and iPhones, which are made by a near-slave workforce with virtually no environmental regulation
As Earth Day nears, Coupon Sherpa's new iPhone application demonstrates how mobile coupons can reduce waste

[Fort Collins, CO] – Envision all the printed coupons you receive via newspapers, magazines and direct mail. Millions upon millions of Americans are bombarded by piles of paper coupons every week. Coupon Sherpa offers an alternative that is friendly to the environment, convenient for consumers and beneficial for retailers.

Introduced in early April, Coupon Sherpa is an iPhone application that allows shoppers to access in-store coupons on their iPhone or iPod Touch. Approved by Apple, Coupon Sherpa (www.couponsherpa.com) is available at the iPhone App Store. There are coupons to over 100 merchants on Coupon Sherpa including Finish Line, Zales Jewelers, Coldwater Creek and Jackson-Hewitt. The coupon categories include clothing, restaurants, pet supplies, sporting goods, home & garden and entertainment.

The debut of Coupon Sherpa is timely, especially since Earth Day will be celebrated on April 22. The waste created by paper coupons is substantial. According to a report by the nonprofit group ForestEthics, "mail advertisements create 51.5 million metric tons of greenhouse gases each year." [Ed: Mail adverts do not equate to coupons, you moron!] That number is equivalent to the emissions produced by heating about 13 million houses or mowing more than 20 billion lawns.

"We know that paper coupons will not be completely replaced, but providing consumers and retailers with an outlet for mobile coupons is a positive start towards reducing the waste created by the mountains of mail we all receive," said Luke Knowles, who created Coupon Sherpa with his brother Jesse Knowles. "In the future, an increasing amount of coupons will be presented on mobile devices, and that will be great for the environment."
2. Kelly Ripa and Electrolux : for being an incredible mix of greenwash and hypocrisy. This is like punching someone in the face and then saying "sorry" in a really sarcastic way.

Kelly Ripa Launches Virtual Campaign To Benefit Global Green

How Green Is This! Talk show host and eco-Mom [Ed: Eco what?! More like Hyper-Consuming Mom], Kelly Ripa launched Electrolux's newest eco-friendly washer & dryer in limited edition "Kelly Green" just in time for Earth Day and kicked off an online campaign to encourage people to renew their commitment to living green by planting a virtual flower for a friend. For every virtual flower planted at electroluxappliances.com , Electrolux will donate $1 to Global Green USA to support their healthy green schools initiatives across America.
Kelly Ripa is paid by Electrolux
Pass me the sick bag!
1. Lexus and Alicia Keys : for leaving me open-mouthed with astonishment at the sheer level of environmental hypocrisy, coupled with a brilliantly conceived splash of student brainwashing; all for less than the cost of a single car.
To kick off Earth Month, Lexus, the top-selling luxury automaker, and multi Grammy award-winning recording artist, Alicia Keys, will honor Los Angeles' Thomas Jefferson High School with a $10,000 Grand Prize for its environmental achievements through the "Lexus Keys to Innovation" program. The "Lexus Keys to Innovation" program is a unique way for Lexus and Alicia Keys to recognize and reward students who have successfully implemented innovative environmental programs in their schools and communities.

Through "Lexus Keys to Innovation," Lexus and Alicia Keys presented ten schools across the country with a $2,000 donation to support existing environmental programs. Thomas Jefferson High School's "action plan" proposed that the $10,000 Grand Prize be used to create a native "green" space on campus for the students and faculty to utilize as an interactive educational tool.

The mission of the program is to better this South LA high school and community by bringing a much needed green space to the area which is currently dominated by [huge amounts of greenhouse gases generated by vehicles such as those produced by Lexus,] concrete, meat packing plants and factories. Additionally, the space will help to improve the air quality around the campus, and will allow students at Thomas Jefferson High School and nearby Harmony Elementary School to use the Green Space as an outdoor science lab.

The Environmental club at Thomas Jefferson High School will make this project a community effort by partnering with the local Harmony Elementary School to teach the younger members of their community the importance of taking an active role to better the environment.

During a school-wide assembly [and marketing opportunity] on April 2nd, Lexus' vice president of marketing, Dave Nordstrom, will present the Grand Prize as well as commemorative, native Californian sapling to plant in the "green" space to Thomas Jefferson High School. As an added "thank you" to the students of Thomas Jefferson, Alicia Keys has videotaped a special message that will be played at the assembly, prior to Dave's commemorative.
Now, will you all join me in sticking two fingers up at the winners – including our special celebrities. May they all be washed away when the tide turns…
[from The Unsuitablog]
STOP PRESS! Since writing this, another email seems to have trumped the trivia of (hah!) "Coupon Sherpa". Take at look at this one about "Earth Saving" bottled water…