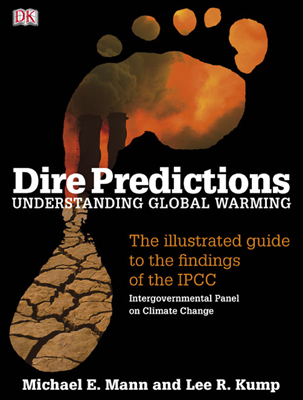 Here at The Sietch Blog we have talked A LOT about the IPCC. Mostly because the Intergovernmental Panel on Climate Change was and continues to be an important "conservative" estimate for the likely effects of global warming. People here a lot of IPCC this and IPCC that and they don't understand two fundamental things. One, that the IPCC is a conservative estimate, that is that it is the least we can expect from global warming, and two, the basic science in the IPCC reports.
It is a fundamental problem with our society today, we live in a world of high tech science, that almost no one understand. However a picture being worth a 1000 words, the new book by Michael E. Mann and Lee R. Kump is worth several million words. Dire Predictions understanding global warming, the illustrated guide to the findings of the IPCC (boy that's a mouthful) Is just that, a picture book to explain the science in the IPCC reports.
This book is 208 pages of brilliant color photographs, charts, diagrams, infographics, examples, explanations, and even a little text thrown in to make the whole thing sensible. It starts with climate change basics, explaining the hows and whys of global warming. Then quickly moves into the projections, impacts of climate change, vulnerability and adaptation issues, and my favorite section solving global warming.
This book is really nice, it teaches in a style a lot of people understand, visually. The charts graphs and models are all easy to read and really bring home the impacts of global warming. In a way this book is absolutely horrifying. When this information is presented in such an easy to understand way you almost become overwhelmed with the sheer depth of the shit we are in. Looking at a table of numbers will in no way bring home the problems we are having like seeing these well made infographics. This is why I am glad a sizable and well thought out part of the book is devoted to prevention of global warming, adaptation to what we can't prevent, and solutions for a greener future.
If you know someone who just "doesn't get it" when it comes to the IPCC and climate change, I recommend you get them this book.