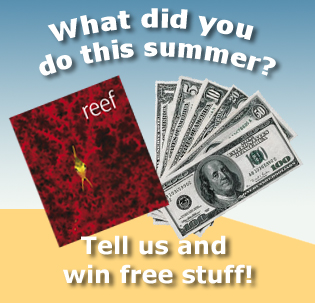 With the passing of Labor Day, the unofficial end of the summer is upon us. The summer is a great time to get out and do something good for the world, from tree planting, to trash pickups, to communal gardening, it is just easier to do great things during the summer. Wouldn't it be great if we could collect some of these stories to share with the world? With that in mind The Sietch is throwing it's first ever giveaway contest!
You are probably asking yourself, "what is he giving away?" Well, I have come into possession of not one, not two, but three copies, of the amazing full color hardback book Reef!
Now you are most likely asking yourself, "Cool! How can I get one?" Well its easier than you think. You know all the sweet things you did this summer to create positive change, well we want to hear about them. Write an essay about what you did this summer to make the world a better place. We want to hear about the time you volunteered at the assisted living center, or the time you helped clean up the beach, or the solar panels you installed. Surprise us! Feel free to include pictures, video (post videos to Youtube, or point us to a link someplace on the net we can download it), or audio. We will highlight the best stories here on the blog, and archive them in the positive stories archive on the main site.
The writers of the top three stories will each receive a copy of Reef (a very nice coffee table book). The best story author will also get 25 bucks, cold hard American cash. Who ever said that nice people finish last! We will be judging on how well you tell the story, what you did, and how well you articulate why you did it. We encourage you to be as creative as you want.
The Contest will run from today (Thursday September 6th) until Thursday September 20th. Giving you plenty of time to go out and do something amazing, if you haven't already. Submit entries to SietchContest@gmail.com by midnight eastern standard time on September 20th, we will announce the winners by Monday September 24th. If you have any questions leave them in the comments. Can't wait to hear your great stories of positive change!