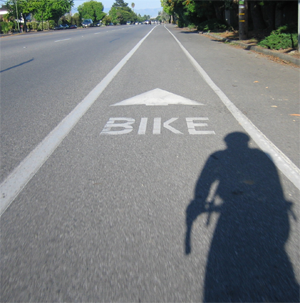 It's Wednesday, that means its time once again for my weekly article from GreenOptions. I write for them each Wednesday. That means The Sietch gets last weeks article :) Enjoy. If I told you that I was going to give you a magic device that would save you money, save the planet, and, oh yeah, firm up that flab you have been carrying around with you for the last couple of year (all for three easy payments of $19.95!), what would you say? Most people would be pretty stoked, but when I tell people that this magic device is a bicycle, the thrill dies down a little.
I have been in love with bike riding for years now, from the flat open roads of Ohio, to the bustling SUV traffic of Austin, the winding roads of Cape Cod, and now the horn-honking traffic of Boston. When I tell people that I ride my bike to work they say "that's great" as they look at me like I might be a couple cards short of a deck. For most people, the conversation stops there, but for those of us who get more engaged, I usually end up hearing something like "I would love to ride my bike to work, but…" It's the "buts" I am going to address today.
"But…it's too dangerous."
I will not lie to you: riding your bike can be dangerous. You are on a little sliver of metal and rubber, and the cars and trucks are huge armored tanks in comparison. A few people do get hurt riding their bikes, but the vast majority of bike riders do not. There are several very easy and smart things you can do to minimize the danger of bike riding.
The first would be to wear your helmet. Your helmet will not save you from everything, but it is better than nothing. The second would be to follow the rules of the road. When you are a bike rider. you are considered a wheeled vehicle and that means you ride on the road, or margin (riding on the sidewalk is dangerous to pedestrians), you ride on the right side of the road, you stop at stop signs and red lights, and you use signals. You need to be aware of what is going on around you: just because someone looks at you doesn't mean they are going to stop. You should ride defensively. In short, don't ride like a crazy person, and chances are you will be fine.
It is important that you develop bike survival skills. These include things like riding in a straight line. Swerving all over the place makes cars nervous. Use your mirrors or learn to look behind you, in the same way you would look at your blind spot before you switch lanes. Following the rules of the road, and having the proper safety gear is going to go a long way towards keeping you safe; defensive driving will take you the rest.
"But… it's too far to ride."
At each point in my life, the concept of "too far" has changed. When I first started riding, too far was 5 miles: the idea of riding my bike that long was just too hard to comprehend. I remember running laps in soccer practice as a child, and 5 miles was forever. The bicycle is one of the most efficient ways of using human power for travel. Using the gear and chain system of a bike, you can transfer relatively little effort into a lot of motion. Of course as you ride more, "too far" gets longer and longer. I now regularly go out for 20-40 mile rides, and don't consider them far at all. The more you ride, the better you feel, so the more you want to ride.
Like anything in life, start small, and slowly push your range out. I find it is helpful to ride for a reason. I am going to ride to the store and get some chips and salsa. I am going to ride to the bank to deposit this check. I am going to ride to the video store to drop off this DVD. Having a goal takes your mind off of "how far." So many of the reasons we get into our cars nowadays are for short 3-10 mile jaunts that could easily be accomplished on a bike.
The six mile bike ride from my home to my office takes me about 30 minutes if I take my time. If I take the train, it takes about an hour. I have never tried to actually push my poor car through morning rush hour traffic to see how long that takes, but it would take a long time.
"But…it's too cold/hot."
This is actually one of the few valid reasons for some people. If you have to show up to the board meeting in a suit and tie, and your office doesn't offer showers, perhaps riding your bike to work on the day when it's 100 degrees outside will not be the best idea. Similarly, if it is negative 30 out, you might want to take the bus. All that being said, there are many days during the year when it is cool enough in the morning to keep you from being a sweat ball when you get to work.
Riding your bike is an enjoyable pastime. You connect with your surroundings because you are not whizzing past them at 50 mph. If you ride at a measured pace, you will not work up too much of a sweat. One technique I often use is to bring my work clothes with me in a backpack, and change when I get to work. I like to push things a bit, and will try and ride throughout the year. Some states will even give your company money to install locker rooms and a shower. Contacting your local government will help you figure out if this is the case. I would suggest you ride your bike when you can, and don't when you cant, even if that means you only ride your bike for a couple of months a year.
"But… there are no bike lanes/trails."
Having the leisure of having a bike lane or trail is great. You get the "road" to yourself, don't have to deal with cars driving past, and, in general, have a nice relaxing ride. That being said, very few places in America have these trails that will bring you from where you live to where you work. You will need to ride in the street.
Most roads were meant to be used by more than just cars. You have a right to use a small portion of that road, and you should. It does take a little acclimation to get used to cars driving past you. Once you do, however, it is no different than cars driving past you in your own car, or when you are walking on the sidewalk.
I think the biggest problem dealing with this issue is that, in many modern cities, cars have become so dominant that highways and busy streets have taken over. But even here in Boston, I am able to find ample "back roads" to get the six miles to and from work without dealing with highways or busy roads. When I lived in Ohio, it was so simple to find quiet streets as to not even be an issue. There is no reason that you have to just accept the status quo: call up your local government and tell them you would like to see more bike lanes in your town.
"But… where will I put my briefcase?"
It is a fairly trivial bit of bike modification to install some bike bags (also called panniers) onto your bicycle. These will allow you carry your laptop, your briefcase, and a whole lot more if you go for the full front and back wheel system. You can also go old school and get one of the little "book shelf" racks for the back. While you are customizing your bike, I would also install some fenders to keep the occasional puddle from splashing up on you, and maybe a blinking light or two for dusk and dawn riding.
The good stuff.
Riding your bike will bring you many benefits: you will be stronger, look better and save a lot of money on gas. I like to fantasize that each and every one of the people I pass stuck in traffic secretly yearns to be with me swiftly riding past them on my way to and from work.
You daily commute can also turn into a very fun part of your day. My morning ride leaves me invigorated and ready for work, in a way no cup of coffee ever could, and the stress of the day seems to melt away on the bike ride home.
I will leave you with my person bike motto in the hope that it can help you become inspired to give bike riding a try. When it is cold outside, ride faster to warm up; when it is hot outside, ride faster to create a breeze. Happy pedaling!