It so often seems that our government is not using its resources efficiently, everyone has heard of the thousand dollar toilet seats, and the wasteful government contracts. However the Iraq War has been one of the most colossal wastes of money this country has ever undertaken. Not to mention the horrific lose in life, both American and Iraqi, a loss more grave than any amount of money. But what if we could get that money back? What if we could use it for something that would benefit humanity.
Several groups have attempted to quantify exactly that. The National Priorities Project has done a great study of what exactly a half of a trillion dollars would buy for America and her people. They break it down by state for instance in Massachusetts they have the following.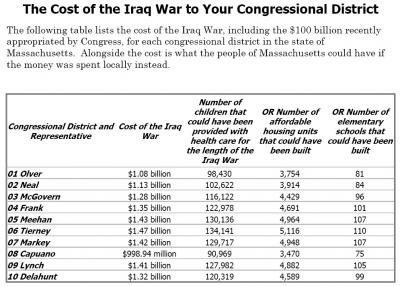 The site has more, and I recommend you check it out.
Much more below.
Another person who has done an interesting calculation is Paul Gipe (if you are involved in wind power you will know that name, Gipe has written some of the best educational texts on wind power). Gipe has decided to see how much renewable energy that amount of money could have got the nation. The most shocking finding is that with half a trillion dollars you could build enough wind turbines to produce almost a third of all the energy used in the Untied States (!). Gipe uses some fairly conservative estimates, and the results are still pretty stunning.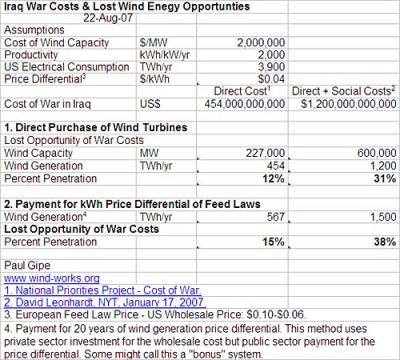 With the current high cost of solar energy(estimated to become cheaper than carbon based energy by 2014), the "war panels" would only produce about 1-3%, which while small is still a lot of energy that would no longer require coal oil or gas to produce. He estimates that you could put a 2.5kw system on 18% of American homes with that kind of money.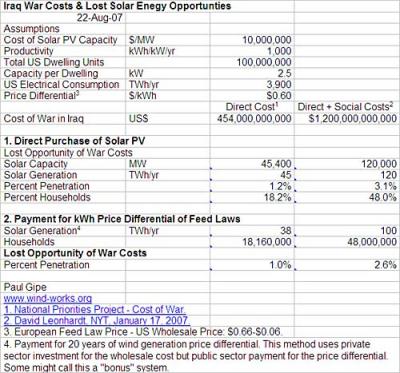 More significantly, such a large-scale development program, reminiscent of Roosevelt's Works Progress Administration, would push America to the forefront of solar photovoltaics technology, enabling us to not only meet our own needs for clean, renewable electricity, but also enabling us to ship panels to distant–shall we say "foreign" lands–to help them meet their more modest needs.

Perhaps in the future we can ship wind turbines and solar panels to the Persian Gulf instead of our sons and daughters.

(via)
I really like the idea of fighting wars over oil with renewable energy. Paul Gipe is an amazing man, and you should pick up any of his books on wind power to quickly get up to speed on the science and technology behind wind power today.
The New York Times also did a piece on how much the money from the Iraq war could have gotten us.

(be aware this graphic was done in January)
They place the cost of the war at a staggering 1.2 trillion dollars. Paul Gipe's estimates above were assuming a direct cost of half a trillion, if we combine the two we could estimate that as much as 60% of our energy could be produced from wind (a high estimate). So lets say that we get real conservative here and say that 10-30% of our nations energy supply could have been from renewable sources right now, had we invested all the money from the Iraq war into renewable energy. What would a nation like this look like?
Well for one we would have a lot more jobs. Someone is going to have to build, ship, install, and maintain all those turbines and panels. I know that in the part of the Midwest where I grew up there is a massive lack of manufacturing jobs. There is a large pool of skilled labor just waiting for a crack at working in a wind turbine factory, or a solar panel plant. This influx of new jobs would help drive more economic growth.
We would also have a lot smaller carbon footprint. Not only because we were using more renewable energy, but we would also have avoided the massive amount of carbon emitted by the war itself. War machines are not known for their fuel efficiency, a hummer started off as a Humvee, armor plate a hummer and see what kind of millage you get. Not to mention the massive amount of co2 released flying and shipping all the troops and equipment back and forth to the other side of the Atlantic ocean on a daily basis.
There would also be the issue of international diplomacy. The Iraq war was the turning point. After 9/11 almost the entire world was sympathetic to America. Willing to help us out in anyway we needed. When we decided to go to war we ruined all that. If instead we would have responded with a massive renewable energy campaign (perhaps also with a ratification of the Kyoto protocol) we could have capitalized on that good will to show the world the way forward.
I understand that we can't change the past, but looking backwards with some amount of contemplation can show us the road forward. If instead of spending another half trillion dollars over the next 4 years on the war we instead invested in our infrastructure (schools, health care, renewable energy) we could reap the rewards we have missed out on.