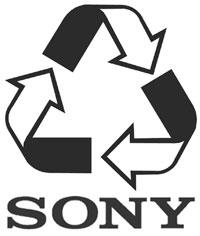 Take back programs have long been popular in Europe, where many countries mandate that you pay a small fee when you buy an electronic product and then that money is used to recycle the product when you want to get rid of it. To encourage consumers to recycle and dispose of electronic devices in an environmentally sound manner, Sony has established a national recycling program for consumer electronics. The Sony Take Back Recycling Program allows consumers to recycle all Sony-branded products for no fee at 75 Waste Management (WM) Recycle America eCycling drop-off centers throughout the U.S. The program, which begins on Sept. 15, was developed in collaboration with WM Recycle America, LLC, a wholly owned subsidiary of Waste Management, Inc. The program also allows consumers to recycle other manufacturers' consumer electronics products at market prices, and may include a recycling fee for some types of materials.
This is the first national recycling initiative in the U.S. to involve both a major electronics manufacturer and a national waste management company. Don't be fooled though, Dell and Apple have similar programs that in some ways go beyond what Sony is doing. But it is good to see large retailers competing for who can recycle the best. E-waste is one of the fastest growing waste streams in America. The really nasty thing is computers and other electronic waste has some of the foulest cancer causing heavy metal containing crap you could ever wish to keep out of the environment. Responsible e-recycling is vital to our continued health and well being.
As the Sony Take Back Recycling program expands, the number of eCycling drop-off centers will increase to at least 150 sites within a year, with at least one location in every state through a combination of WM Recycle America locales and WM external service partners. Sony and WM Recycle America are also working towards the goal of having enough drop-off locations in all 50 states so there is a recycling center within 20 miles of 95 percent of the U.S. population. Consumers will also have the option of shipping their used Sony electronics products to select WM Recycle America locations.
"Providing the highest level of service and support doesn't stop once a purchase is made. We believe it is Sony's responsibility to provide customers with end-of-life solutions for all the products we manufacture," said Stan Glasgow, president and chief operating officer of Sony Electronics. "Through the Take Back Recycling Program, our customers will know that their Sony products will be recycled in an environmentally responsible manner." Glasgow said that by making the recycling of Sony products easy and convenient, the company expects to reach its goal of recycling one pound of old consumer electronics equipment for every pound of new products sold.
A study by the U.S. Environmental Protection Agency showed that in 2005 used or unwanted electronics amounted to about 1.9 to 2.2 million tons. Of that, some 1.5 to 1.9 million tons was primarily discarded in landfills, and only 345,000 to 379,000 tons were recycled. By recycling old electronics products, useful materials — such as glass, plastic and metals – can be collected and re-used in the manufacture of other products. Recycling not only minimizes the amount of waste disposed, it also minimizes the extraction of new raw materials from the earth and resources required for processing, saving energy and reducing greenhouse gases in the process.
The next logical step would be to create products that are created with recycling in mind. Computers and other electronics that are built with easy to remove and standardized parts could greatly reduce the energy needed to recycle them. Lets hope more large electronics retailers follow Sony and being take back programs.
Devon also had this to say about Sony's new plan
I remember when the Sony walkman was one of the most coveted items to have back in middle school. They seemed to be the only way to survive those long bus rides for school field trips to Boston or New York City. The walkmans of today have now been eclipsed by iPods, quite possibly to be replaced in the future by some green energy models. The biggest and most environmentally concerning issue with electronics is not necessarily only focused on the amount of energy they use to run (personal or plug-in) but their lifespan and end-of-life resting ground. In recent news, Sony has seemed to step up to the plate for product take-back.
Starting September 15, consumers will be able to bring their old Sony products to designated drop off points to be recycled responsibly free of charge. They will also be accepting other manufactured electronic products for a nominal fee. This is a huge step in the right direction for an industry that has been creating large amounts of waste that have been passed off to third-world countries to just collect and pile up. Let us hope that Sony's partnership with Waste Management Recycle America, LLC will be the answer to recycling, reusing, and reducing the impact of the electronics industry.
***
Thanks to the folks that post to the MassRecycle listserv; alerted me to this news item. If you live in Massachusetts and want to be more in the know regarding town recycling programs and the like, then you should definitely check out this online group. Everyone is very supportive and great at working together to get an answer for your recycling questions!