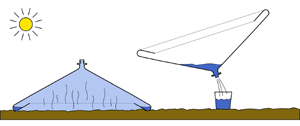 The Watercone is an ingenious device that can take salty water and turn it into fresh water using only the power of the sun. The nice thing about this device is it is bone simple, uses the sun instead of fossil fuel, and is cheap to make and easy to use.
The Watercone is surprisingly a cone, that you place over a pan of salty water (or over a marsh, or any damp ground) leave it out in the sun, water evaporates, the condensation trickles down the side of the cone, at the end of the day you flip it over, remove the cap at the top and drink the water.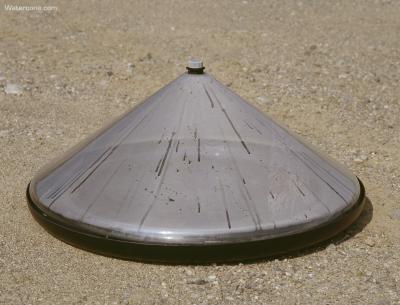 This device has the potential to really do a lot of good for a lot of people. So many people live in areas where the ground water has been polluted by salt incursion due to over pumping, or in areas that simply don't have large fresh water sources (south pacific islands, sub-Saharan Africa, south-east Asia). The Watercone is made from UV resistant plastic and they claim that it will last up to five years, after which it can be used to collect rainwater and funnel it into bottles.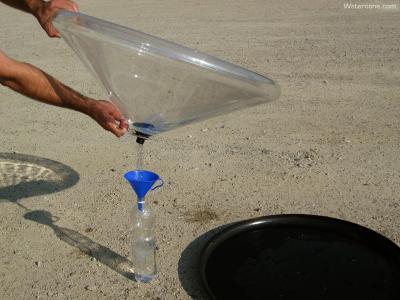 They claim that on average one Watercone can produce one liter of water per-day. I could image a whole fleet of these things for a village. They float, so you could place them over a small pool of salt water and just collect fresh water all day. At about 20 Euros it would pay for itself in a couple of months and provide potable water for the next 4-5 years. It is also recyclable and non-flammable.
The Watercone website has some really interesting information and I highly recommend checking it out.
1. Much cheaper than bottled water.
Watercone life expectancy: 3 to 5 years. Price: planned below € 20.- Average Price of 1 liter of bottled water in developing countries: $US 0,50. Presuming a daily usage of the Watercone and a daily average yield of 1 liter, the Watercone has paid for itself in about 2 mounth and will work for free the next 5-7 years!

2. Absolutely, low concept and low tech.
As opposed to other types of solar stills which feature electronics, photo-voltaic cells, tubes, filters, many parts, etc. the Watercone concept is understood within seconds with absolutely no need for academic background. Additionally it (cone & pan) is made from Bayer Makrolon, a high-tech ultra-rugged and highly recyclable polycarbonate, virtually insensitive to UV exposure or breakage, an all too common result of rough transport.

3. Perfect for coastal dwellers.
There are at least 50 sunny, developing countries worldwide with a significant amount of sea- or coastline. Many from their populations, hundreds of millions, live in nearest proximity to water but cannot drink it or use it for agriculture, because it is saltwater. Large families, hamlets, villages could all experience dramatically improved quality of life starting from as little as a dozen Watercones set up close by the sea.

4. Perfect for medical purposes.
There are thousands of hospitals in developing countries, field and mobile hospitals, first aid and emergency medical units around the world that are located in sunny climates and lack condensed water. Outfitted with just a dozen Watercones, a little field hospital could harvest 15 liters of condensed water per day. More than enough to make a difference for life or death.

5. Creates jobs.
For centuries water vendors have walked the markets of hamlets, villages and cities around the world, mostly in Africa, the Mid East and Asia. Based in the vicinity of salt or brackish water and outfitted with a minor credit line, these vendors could invest in a dozen Watercones and sell 15 liters of water a day and have their investment returned in no more than half a year.