Cindy has sent us another very cool article about recycling and reusing old materials to make something new and interesting. This time she tackles old VCR tapes.
I'm sure many of you still have a shelf of those old VCR tapes around the house or office. I know I do and I'm sure I'm not alone. The VCR (video cassette recording) tapes have pretty much gone by the way side just like the old 8 track tapes and where the cassette tapes are going too. So what to do with these old tapes?
Being a recycler and a crafter, I thought what can I create with these old tapes? Someone once said that a crocheter sees everything as yarn. Well, that's just want I thought of. It is just the right width to crochet with and it's all wound up on a nice reel. Of course you have to get this "yarn" ready. Here is a picture tutorial on how to use VCR tape as yarn.
Okay so now you have this wonderful recycled material ready to create something with. What can you make, you say? Well here is a pattern to crochet a unique vcr-ribbon tote bag.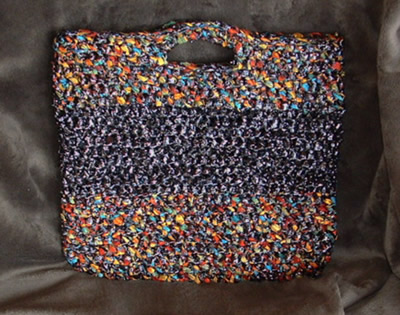 More designs below the fold.
and a sling bag purse pattern.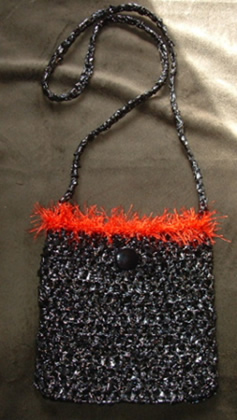 Needless to say, there are several free patterns at my website My Recycled Bags which you can use to create yourself a beautiful bag using VCR tape.
If you are not a crafty person, you still can recycle those old tapes. Here are a few links that have several resources for recycling them. http://epa.gov/jtr/jtrnet/videotps.htm
http://www.greendisk.com/
Also you might want to list the old tapes on your local freecycle site as more and more crafters are getting into using the tapes and always need more materials. I have had several people send me their tapes and I have used them in my crafting projects.
So whether you are into recycled crafts or just recycling, don't throw out those old VCR tapes. Find a new use for them or get them into the hands of someone who can!