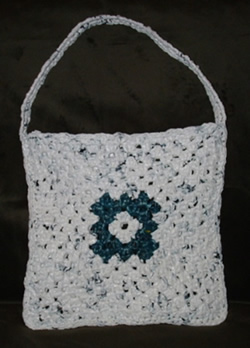 Are you into green, eco-friendly crafting? Ever heard the term plarn before? What exactly is green plarn crafting you ask? Well let me introduce you to a wonderful new term plarn. Plarn is a relatively new word that refers to the yarn that is created from recycled plastic bags.
Plarn is created by cutting plastic grocery and retail bags into strips and then interlinking them together. The method I prefer is accomplished by cutting the plastic bags into 1 inch wide strips. You then interlink two strips together and pull gently tight which creates a small knot between the strips. Continue the process by adding another strip to the last and so on until you have a long, continuous strip. Here is a link to a picture tutorial that shows the step-by-step process to create your own plarn.
You can now use your plarn as you would any yarn to crochet, knit, or weave your crafting project. Here are some valuable tips for crocheting and crafting with plastic bags.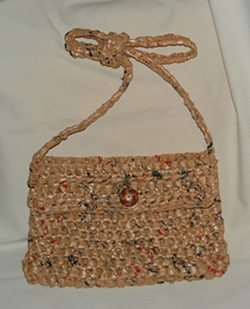 There are many free patterns for crocheted and knitted crafting products at http://www.myrecycledbags.com. I love to share my green crafting ideas with others in an effort to promote recycling and crafting. I challenge all you crafters out there to make a large ball of plarn and then get crafty and make something. It is truly a wonderful, eco-friendly thing to create a treasure from trash. Or in this case plarn!
Respectfully submitted by RecycleCindy of http://www.myrecycledbags.com