First up solar brick edging. You ever seen those little solar path lights that just stick into the ground on the side of the path? This is the same thing only with bricks. An interesting twist on the idea.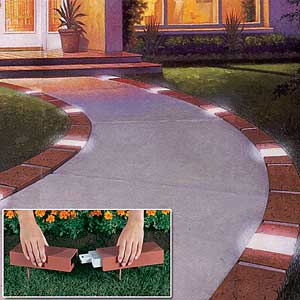 From the site
SOLAR BRICK EDGING

Brick edging with built-in solar powered lights! No hand wiring needed – powered by daylight! Add borders to walkway to see at night and highlight trees, flowerbeds, and other yard plants. Flexible so you can create both straight or curved patterns and installs in minutes. Simply snap, place, and press! It's that easy. Includes four solar bricks, 24 unlighted bricks (each 8 x 1 3/4 x 3 1/2″) for about 20′ of edging.
Here is another solar brick product, only you can walk on these.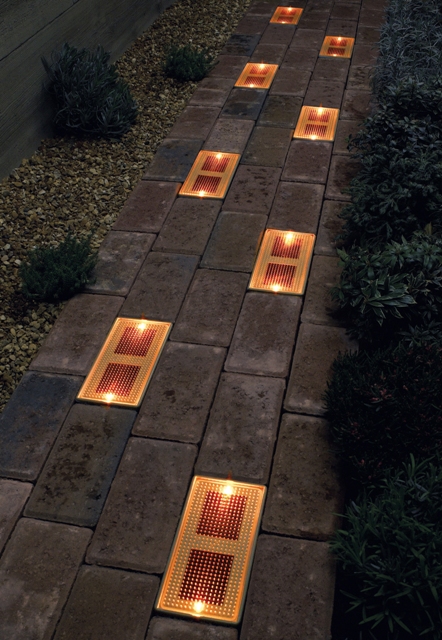 from the site
Provide your driveway with no cost illumination at night using these solar powered floor lights. Replace bricks in your driveway or on a path to create safe and beautiful lighting for your outdoors. Automatically illuminates at night. The integrated solar panel recharges the battery during the day and gives you up to 8 hours of light each night. This energy saving light has a dual amber LED lighting unit with a replaceable rechargeable NiMH battery pack. Made using a high impact plastic these lights are designed to take a car's weight. No wiring, simply install and enjoy. No operating costs. Two-year warranty.