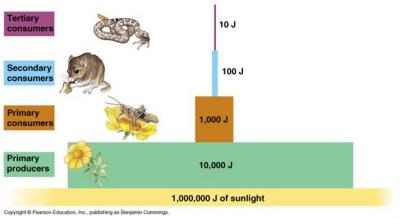 Food is a system of energy transfer. The main source is the sun (other than a few interesting Chemosynthesis creatures), and then its all a matter of how many steps away from the sun your meal is.
For instance if you are a plant its pretty straight forward,
(sun -> you)
If you are a cow,
(sun -> plant -> you)
If you are a wolf,
(sun -> plant -> deer -> you)
Being a human (assuming you ARE a human) it can get really interesting depending on how you get your food, but lets simplify:
carnivore (meat only) = (sun -> plant -> animal -> you)
omnivore = [(sun -> plant -> you) + (sun -> plant -> animal -> you)]
vegetarian = [(sun -> plant -> you) + (sun -> plant -> egg/cheese – >you]
vegan (plants only) = (sun -> plant -> you)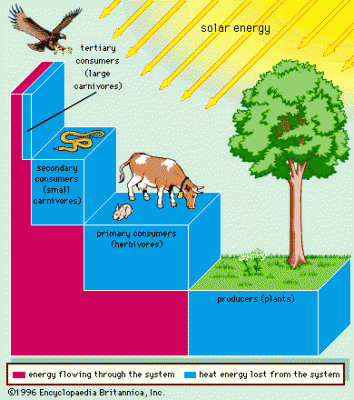 So like any energy transfer system a little bit is lost at each stage. The plant absorbs the sun and wastes some of it growing, and when we the cow eats the plant it wasts some of it growing and so on until it gets to your mouth. That means it takes more energy to produce X number of cow calories than it does X number of vegetable calories.
Cleary, eating vegetables is more efficient. It not only takes more energy from the sun to make that cow calorie, but it also takes more land to grow the crops that cow ate, it takes more water, it takes more oil, and it takes more chemicals (most farms don't grow organic feed crops), and you feed less people.
Where is all this leading us? Should you all go out and become vegans, maybe but if you are not ready for that sort of change you can do something else.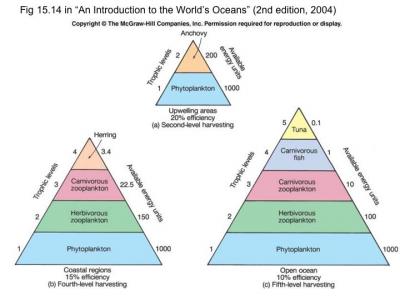 There is a movement to push the old PB&J (peanut butter and jelly) sandwich. The fine people at pbj campaign make a fine argument for why switching a couple of ham sandwiches a month to pb&j can make a good bit of difference in the world.
Here is just a taste (sorry) of what you can achieve by switching.
A PB&J will slow global warming.

Next time you have one you'll reduce your carbon footprint by saving the equivalent of 2.5 pounds of carbon dioxide emissions over an average animal-based lunch like a hamburger, a tuna sandwich, grilled cheese, or chicken nuggets.

That's about forty percent of what you'd save driving around for the day in a hybrid instead of a standard sedan.

If you were going to have a ham sandwich or a hamburger, you save the equivalent almost 3.5 pounds of greenhouse gas emissions.

A PB&J will also save water.

That's about 280 gallons of water over the hamburger. To put this in perspective, three PB&Js a month instead of hamburgers will save about as much water as switching to a low-flow shower head.
A PB&J will save land.

Have a PB&J and save 12 to 50 square feet of land from deforestation, over-grazing, and pesticide and fertilizer pollution.(via)
Visit their site for more interesting ways the old pb&j can help the world.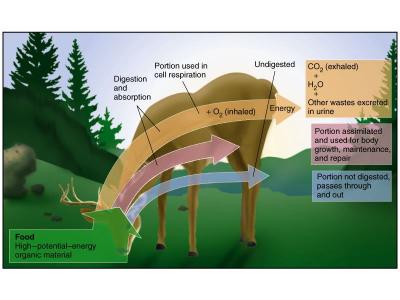 There are other things you can do. (in order of importance)
Eat local:
The average food item in the American market has traveled over 1000 miles to get there. Eating local saves a lot of oil on transport, and makes the local economy stronger. Check out that farmers market and make your mouth and someones wallet happy. Paying a local farmer a couple cents more for an apple means that farmer might get 80 – 90% more for that apple. Large food companies take a big cut out of the final price of our food. Not much of that money makes it back to the farmer. Buying local means that farmer will have more money to come to your business.
Even if you eat meat, eating local meat will help reduce oil used in transport. My father is a small town butcher and he can testify to the fact that large meat plants do horrific things to meat, get it local and know what is going into your cow.
Eat more vegetables:
Your mother was right, you should eat your vegetables. Its good for you and the planet. You will notice your waste line looks better as does your skin, your hair and your mood.
Eat organic:
Organic foods are produced without artificial chemicals and fertilizers, hence they use less oil.
If you are feeling a bit crazy, trying going vegetarian for a week. You might like it, I know I did. I lived with a couple of vegetarians in college and it was just easier to eat what they ate, over 5 years later I don't miss meat at all.
If you absolutely can't live without meat, I would suggest raising your own. If you have the space raising chickens is not as hard as you would think. If you live in a big city, some farmers run programs where they will raise animals for you and even do the slaughtering, all you have to do is pay your money and pick up your meat. If you go this route make sure you get to know the farmer before hand and pick one with farming practices that are gentle on the earth.
I have slaughtered chickens and can tell you that it gives you a whole new appreciation for where your food comes from. If the idea of raising and then killing an animal for your food is revolting to you, and you still eat meat you might want to spend some time thinking about why that is. Home grown meat can be a great way to get more in touch with nature and at the same time control what kind of weird stuff goes into that meat.
There are lots of things you can do to lessen the amount of energy you use to get your food, from eating some pb&j's a couple of times a month, to changing the way you get food, to changing WHAT you eat all together. If you have any tips make sure to leave them in the comments. Thanks.