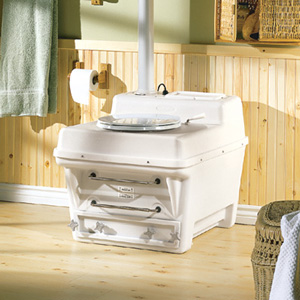 In the second of our "10 questions" series of interviews we are sitting down with Scott Smith, Vice President & CMO of Sancor industries Ltd. makers of Envirolet Composting Toilets. You may recognize the name Envirolet, they are the ones that produced that snappy video about composting toilets. Scott is also involved with the very cool blog Green Thinkers, and Envirolet Buzz.
1. The Naib:Could you tell me about your company? How did the company start? What got you interested in the composting toilet business?
Scott Smith: We have been manufacturing and marketing Envirolet composting toilets in Canada since 1977. My father actually started selling compost toilets back in the early 70s. He originally imported and sold systems from Scandinavia. By 1977 he had helped create his own line of composting toilets called Envirolet. How did I get into the industry? I was born in 1975, so I didn't really have much of a choice as I was born into the business and composting toilet industry. I started hanging around the offices and production facilities by the time I was 10 and basically never left except to complete university.
2. The Naib:How do your systems work?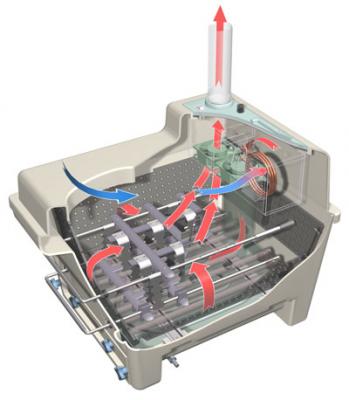 Scott Smith:Envirolet works on evaporation and composting with its patented Automatic Six-Way Aeration. This process circulates heated air around six sides of the waste in the system creating a great environment for composting and evaporation to occur. Waste is almost 90% liquid. Envirolet systems eliminate the liquid portion of the waste and the remaining 10% of solid material is composted through natural microbe-action.
3. TN:What are your most popular models?
SS:Our waterless models are still the most popular. The smaller all-in-one systems are popular because of their lower cost and because they can install almost anywhere. But, our Waterless Remote Systems have almost caught up in popularity because of the smaller and attractive toilet.
4. TN:Can the toilets handle heavy use say at a museum or other public location?
SS:We do focus on the consumer market, but our systems are used in commercial environments. With composting toilets, capacity is very important. Any system will function fine if it is used within its capacity limits. So, for commercial locations more than one system may be required. But, keep in mind that most commercial applications with regular flush toilets will have multiple toilets as well.
5. TN:Is there any difference between many people going number 1 and not so much number 2? Does this have any bearing on how the machine works?
SS:As long as the normal additives (peat moss, dark soil, coconut husks, wood shavings, sawdust) are added then this is not a major concern.
6. TN:Compare and contrast the user experience of composting toilets vs. flush toilets.
SS:Well, with out low flush models there is essentially no difference. You use it and flush it away. With a lot less water mind you. Our waterless systems are a bit different to use than a standard flush toilet. Self-contained systems are all-in-one units, so the waste/compost is located directly below the seat… We do have a trap that acts as a visual guard, although most people will usually take a peak. Peat and the other additives also help. So, if you can get over that difference you'll be fine. Our other waterless systems, the Waterless Remote style, which has a waterless toilet in the bathroom and the compost unit below, act much like a flush toilet without the flush. The bowl is designed to help provide a natural visual guard. All that said, a change in attitude and a loss of the flush-it-away mentality will go a long way.
7. TN:What are the environmental benefits of a composting toilet?
SS:The water savings is one of the greatest benefits. Composting toilets use little or no water at all. Compare that to a normal flush toilet where a family of four will flush upwards of 30,000 liters of (fresh) water a year. Multiply that by the population of North America or the population of the world and you can see how much water could be saved if we all used compost toilets.
The UN lists sanitation as one of the top requirements alongside food and shelter. A compost toilet provides an economical on-site (i.e., right in someones home) sanitation solution. A sanitary and dignified solution that also saves the fresh water in the community for drinking and food production. Also, if communities use composting toilets the need for expensive sewage treatment plants is eliminated saving money for better purposes such as health care, clean water, and food.
8. TN:What makes your toilet stand out from the field? What makes your product the best? What recent advances have you made?
SS:Our Automatic Aeration process probably makes us stand out the most. But, there are a few other features we have that others don't including dual fans (vs. 1), easy to access electric components that are away from any waste, the ability to up or downgrade a system in power, switch controls for normal and energy modes, a choice of colors, a wind turbine ventilator for top of vent, etc. Envirolet also does not require a step to us like some.
Last but not least, we also offer the longest warranty on our systems in the composting toilet industry with 5-years on anything inside the system and a lifetime on the body.
Most of the composting toilet systems on the market work too, of course. Envirolet just has more features.
We have a whole new line of systems coming out in the next week or so. I'm going to wait before letting you in on all the details. But, I can say that this new system eliminates some of the installation difficulties faced in certain applications. We're pretty excited about this new system. Watch out web site or blog for updates.
9. TN:What is the cost of a composting toilet compared to a flush toilet?
SS:Manufactured compost toilets usually run from about $1000 to $3000 compared to $100 or so for a typical flush toilet hooked to the sewage system. This is one reason it's hard to convert a suburban household to composting vs. flush toilet. If the infrastructure is already there, flush toilets are cheap. But, in areas where there is no sewage system or where the other alternative is septic, composting toilets win. Septic tank systems can run anywhere from $5000-30,000, not to mention the negative impact on the environment.
10. TN:What would you tell an average consumer to convince them to switch to a composting toilet?
SS:That using one is not that different! And that a composting toilet is one of the best things they can do on a personal level to save water and not pollute. Even if it's just in a new addition or a cottage you will be saving a lot of water and reducing your footprint.
Do you have a website, phone number, email to let people know how to contact you?
Scott Smith
envirolet.com
enviroletbuzz.com
416-299-4818 or 1-800-387-5126 in the US
(And envirolet.ca for Canada and envirolet.eu for Europe).