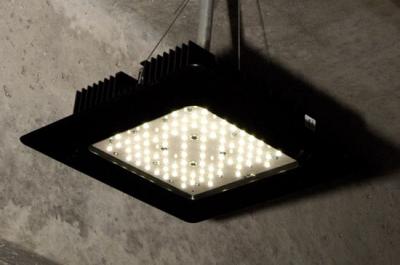 It seems obvious that cities would want to switch the majority of their lights over to LED's. Not only do they last longer, but they use less energy as well. This saves the city money both in energy and in labor time spent replacing bulbs. I am not the only one that thinks so, the city of Raleigh, N.C. has recently started switching some of its city owned lights to LED's.
[Raleigh, N.C.], which is in the center of the state's tech hub, is conducting experiments to see if it can cut energy consumption and maintenance costs by replacing conventional public light fixtures with ones based around light-emitting diodes.

In December, Raleigh–in conjunction with LED manufacturer Cree–replaced high-pressure sodium lights in a downtown parking garage with LED lights. Although the LED lamps cost substantially more than regular sodium lamps, they require less electricity and need to be replaced far less often.

Early projections indicate that the expense of retrofitting the garage's lighting system will get recovered in cost savings in two to three years, said Mayor Charles Meeker.

"We are saving over 40 percent of the energy we would otherwise use," said Meeker (via)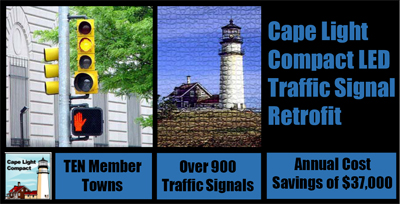 They go on to point out how much money they will save.
Next, Raleigh will kick off a pilot program with LED streetlights and will also seek funds to convert the city's other parking garages. If all seven municipal parking lots in the city were retrofitted, it could save the city $100,000 a year in energy consumption and decreased maintenance, he said. The lights in stadiums, gyms, schools, parks and other public venues could be next.
On Cape Cod, where I live, ten of the 15 towns retrofitted their stop lights in 2003 with LED's and have since saved a bunch. The retrofit was put into motion by the Cape Light Compact, a regional energy efficiency agency that is in charge of regional energy policy.
The Cape Light Compact energy efficiency program for Cape Cod and Martha's
Vineyard, will begin to help ten member towns – Barnstable, Bourne, Brewster, Dennis, Falmouth, Harwich,
Orleans, Sandwich, Truro, and Yarmouth replace their energy-inefficient incandescent traffic signals with LED
(Light-Emitting Diode) signals. LEDs generally use 80-90% less energy and last 10 times longer than
incandescents. Additionally, incandescents last about a year before needing replacement while LEDs last
between seven and ten years. Along with the reduced maintenance and replacement costs and annual energy
savings, the LED Traffic Signals provide a brighter and purer color that remains consistent, even in direct
sunlight. With the retrofit project, the towns will not only save money and electricity, but will also provide a safer environment. The entire cost of replacing the traffic signals will be paid by the Cape Light Compact

RESULTS
Starting in late 2003, over 900 traffic signals will be replaced in Cape Cod member towns with the more efficient
LEDs through a contract with Republic Electric East. Each installation will displace an average of
330kWh per year. The annual energy savings are approximately 300,000 kWh annually, equivalent to $37,000.
With the rebates from Cape Light Compact, the measures and retrofit costs totaling over $114,000 will be fully
paid for by the Compact for the member towns. The total cost savings over the lifetime of the fixture is estimated to be approximately $260,000.(via)
So lets take a look at that math. Replacing the lights costs $114,000, you save 37,000 dollars a year on energy cost, so that means that in about 3 years the improvement has paid for itself. Not a bad option for cities that already have shrinking budgets. Sure it costs a little more now, but in three years you have an extra 37,000 dollars in the budget you can use for something else.
The fight against global warming (and ballooning city budgets) is going to be one by the one-two punch of efficiency, and renewable energy.