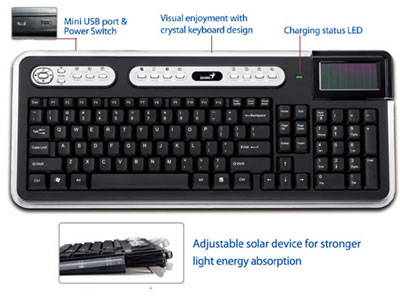 A company called Genius (nice name) has come out with a wireless solar powered keyboard. Seems it also has a backup usb charging cable in case you like to do a lot of dark room web surfing.
features:
– stylish 2.4GHz solar desktop combo for green protection
– keyboard with adjustable solar device
– high resolution laser mouse, resolution: 1600/800dpi
– mouse with power saving technology
– radio frequency: 2.4GHz, anti-interference
– up to 10 meters operational distance
– port: USB

keyboard – 17 programmable hotkeys for:
– 6x media center control
– 4x Internet features (browser, messenger & mail)
– 3x MS Office (Word, Excel & Powerpoint)
– 4x Windows (copy, paste, print, save)
That's right solar power and 17 (count em) 17! programmable hotkeys!