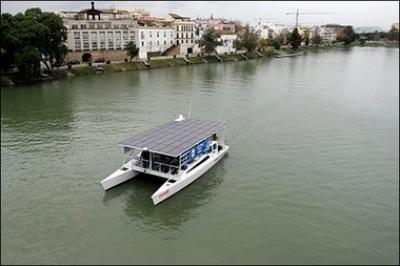 …I read on Yahoo News.
Read for y'all's selves:
from here
A Swiss-made catamaran has become the first solar-powered boat to cross the Atlantic after reaching the French Caribbean island of Martinique, the boat's owners said.
ADVERTISEMENT

Sun21 reached Martinique's Le Marin harbour at 3:00 pm (1900 GMT) on Friday, 63 days after leaving the Spanish port of Chipiona near Cadiz, the Transatlantic21 partnership said on its website.

The 14 metre (46 feet) boat largely followed the historic route sailed by explorer Christopher Columbus on the first known maritime crossing of the Atlantic in the 15th century, making its last stopover in the Canary Islands.

The catamaran covered the final 5,000 kilometre (3,100 miles) non-stop leg in 30 days.
I am reminded of something like 'history repeating itself.' Also that wind power is really a complicated answer from a simple source: the sun. So I suppose that all wind power really is 'solar power,' originally and disturbingly simply speaking.
Take from it what you may.
peAce