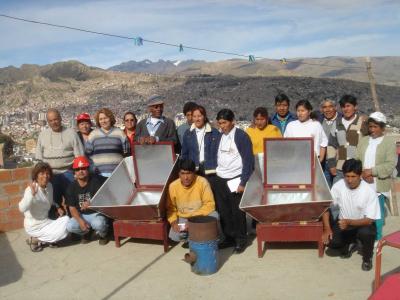 With all the talk of late of how renewable energy will combat our large industrial hunger for energy in the future its important to realise that renewable energy has another very important promise. Bringing energy to those that have none.
Renewable energy offers energy to people who live in places with no power grid, places that have no lights, that have to burn scarce wood supplies to cook food. It offers the chance for developing nations to leap frog past the "dirty" stage of development.
The way nations normally develop causes massive damage to its own environment in order to get rich fast. For a good example see what China is doing to its environment right now, or what we did to our own. Once a nation is richer, the citizens usually start to demand that the place they live be cleaned up. This process ultimately leads to a damaged world full of regrets for what we "should have saved."
But what if we didn't blast off mountains for coal, and didn't pollute the skies with burned oil, what if we had gone right to distributed renewable energy? Every roof would be an energy station, supplying solar energy and solar thermal power to each home. Large urban settings would be served by wind farms and large centralized solar thermal heat projects would provide community heat.
Its a little late for us to develop in this manner, at least not without spending a lot of money to retrofit existing structures. Buts its not too late for the developing world. It's not too late for them to save themselves the trouble of ruining their own backyard, they can skip right to the renewable energy. People talk of the "problem" of what will happen when India and China start to develop in the rural areas, this "problem" could become a wonderful opportunity.
It would have to start with individual village level support for renewable energy, and I am not the only one who thinks so. Are you interested in helping to develop renewable energy for the developing world? What follows is a highlight reel of some interesting projects that are doing just that. These folks have worked hard to bring the positive benefits of renewable energy to the world.
Solaraid:
SolarAid is a registered charity (registration number 1115960) that was started by employees of Solarcentury.

Solarcentury has committed to pay 5% of its annual net profit into SolarAid and we hope to use these funds to leverage further support from suppliers, investors and clients. Donations to meet the costs of current projects are welcomed and a fundraising strategy is under development.

The objectives of SolarAid are:

To relieve poverty through facilitating the provision of solar energy to those in need.
To advance the education of the public in matters relating to solar energy, climate change and the protection of the environment and to carry out and disseminate the results of research into all aspects of energy generation, distribution, supply and use.

Vision
SolarAid's vision is of a world where everyone has access to affordable, clean, renewable power.

Mission
Our mission is to grow rapidly into an international charity working with existing NGO's and others to provide clean renewable power for the world's poorest people.

We believe that the provision of affordable and accessible power will, by facilitating education, access to information and communication, help relieve poverty by enabling poor communities to transform their lives, reclaim their rights and make their voices heard. Renewable power can also help to promote health, safety and general well-being.

As we grow, we will also seek to educate and influence both the public and policy makers on the issues related to renewable energy and climate change and their impacts on the world's poorest people.

Director: Nick Sireau
Trustees: Katrina Johnston, Jeremy Leggett, Vicky Phillips
Company Secretary: Vicky Phillips
They offer these ten facts
10 facts about solar

1. The earth receives more energy from the sun in just one hour than the world uses in a whole year. That's why SolarAid believes solar power is so important for development.

2. Two billion people in the world have no access to electricity. For most of them, solar power would be their cheapest electricity source, but they cannot afford it. SolarAid helps to redress this through small-scale solar projects for poor communities.

3. Building a small solar charger for a radio can cost around £5 and can sell for three times the price in Malawi. That's why SolarAid is helping rural villages in Malawi set up small solar businesses so they can earn a living.

4. SolarAid is the only UK charity specialising in solar energy for poor countries.

5. Most rural poor in Africa use kerosene lamps, which are heavily polluting in CO2 and bad for their health, but a solar lamp would be cheaper and better for the environment.

6. Solar panels have a life expectancy of at least 25 years – making them a very dependable source of electricity.

7. Lack of access to affordable electricity is a major cause of poverty in rural areas in Africa, which is why SolarAid focuses on these regions, using solar power for education and health.

8. Africa has the lowest fossil energy use of any world region, yet the continent is the most vulnerable to climate change. Signs of a changing climate have already emerged there: disease and melting glaciers in the mountains, rising temperatures in drought-prone areas, and sea-level rise and coral bleaching along the coastlines.

9. Respiratory diseases caused by toxic smoke from cooking fires kill 1.5 million women and children each year. Yet a solar cooker, which is much safer, can be easily built from cardboard and waste reflective material.

10. SolarAid is a unique charity that has been set up to help fight climate change and global poverty at the same time.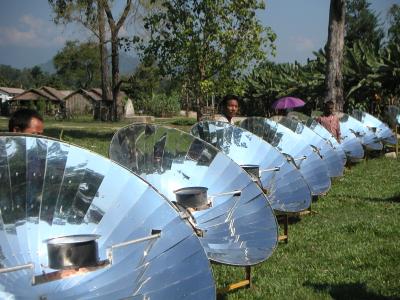 The Solar Cooking Archive
Run by Solar cookers international the Solar Cooking Archive people are amazing.
Solar Cookers International assists communities to use the power of the sun to cook food and pasteurize water for the benefit of people and environments.
Learn why you should be solar cooking, and then go give it a try, I did and had a great time !
Solar Electric Light Fund (SELF)
Addressing the earth's energy and environmental problems, while working to improve the quality of life of rural people who have yet to be connected to a fossil-fuel powered national utility grid, SELF seeks to assist developing world communities and governments in the acquisition, financing and installation of decentralized household solar electric systems that convert sunlight directly into electricity. Using the latest photovoltaic (PV) technology, SELF helps rural families make the leap from the 19th to the 21st Century.

Acting as a catalyst, SELF brokers the purchase and delivery of solar home lighting systems (SHS) working with rural solar electric associations, local PV-system suppliers, solar entrepreneurs, farmers cooperatives, donor agencies, corporations, non-governmental organizations, multilateral development banks, and governments. SELF also helps start up rural solar enterprises.

A primary mission of The Solar Electric Light Fund is to overcome institutional barriers and generate changes in attitude–in the industrial world and its donor agencies and in the developing world's governments and financial institutions–towards the understanding, acceptance and application of solar power.
Global Transition Group
From here
Hansen spent a decade introducing photovoltaics in the Dominican Republic and Honduras, financing the first system himself as a demonstration. Through Enersol Associates—the nonprofit he started in 1984 to introduce solar technology to remote rural areas in Latin America by assisting local organizations and training solar technicians—he set up a revolving micro-credit fund. "Only a certain percentage of people could afford a module on a cash basis at harvest time," says Hansen. "A system cost between $500 and $1,000." Micro-credit was used to establish affordable payment plans and help local solar entrepreneurs reach more customers.
MIT Solar Turbine Group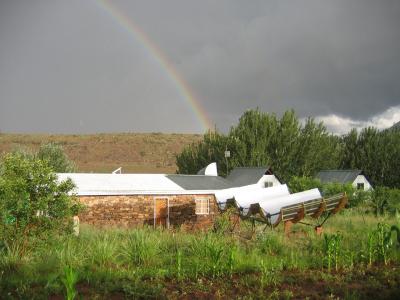 From here
Two MIT graduate students in civil and environmental engineering have won a 2006 World Bank Development Marketplace grant to develop a solar micro-generator that would provide affordable energy to Lesotho, a mountainous African country where just 10 percent of the population has electricity and almost 30 percent of adults are living with HIV/AIDS.

The students, Matthew Orosz and Amy Mueller, received just over $100,000 for their project, one of 30 the World Bank funded this year in the competitive Development Marketplace (DM) grant program. More than 2,500 teams sought DM funding for projects on this year's theme, "Innovations in Water, Sanitation and Energy Services for Poor People."

The pioneering MIT technology combines solar thermal power with a microscale generator that is built and repaired with ordinary auto parts. The MIT team's goal is to provide not only energy but also support for the local economy through manufacturing the generator in Lesotho, a nation about the size of Maryland.
Light Up The World
Light Up The World Foundation (LUTW) is the first humanitarian organization to utilize renewable energy and solid-state lighting technologies to bring affordable, safe, healthy, efficient, and environmentally responsible illumination to people who do not have access to power for adequate lighting. LUTW remains the world's leader in this endeavour: globally active and setting standards in the field.

Through generous support from interested individuals, corporations, host country organizations, international foundations and industrial partners, LUTW has lit up more than 14,000 homes in 42 different countries throughout the developing world from Afghanistan to Zambia. LUTW projects have brought tangible social, environmental and economic gains to communities by enhancing their health and safety, fostering local education, helping to develop an economic infrastructure, and protecting the physical environment by reducing the amount of carbon based fuels used for lighting. Over 100,000 people have been impacted directly by this new and innovative approach to development.
These and other organizations are changing the world one village at a time. If you know of any other groups be sure to add it to the growing list on the forum.